Nantucket Footprint
Toilet Cleaner- 24 Strips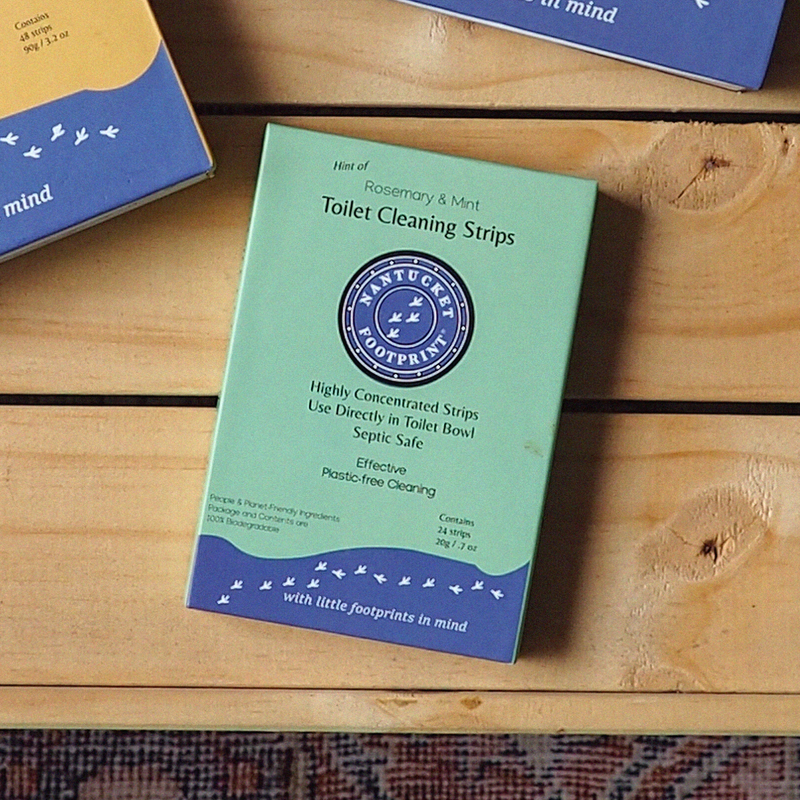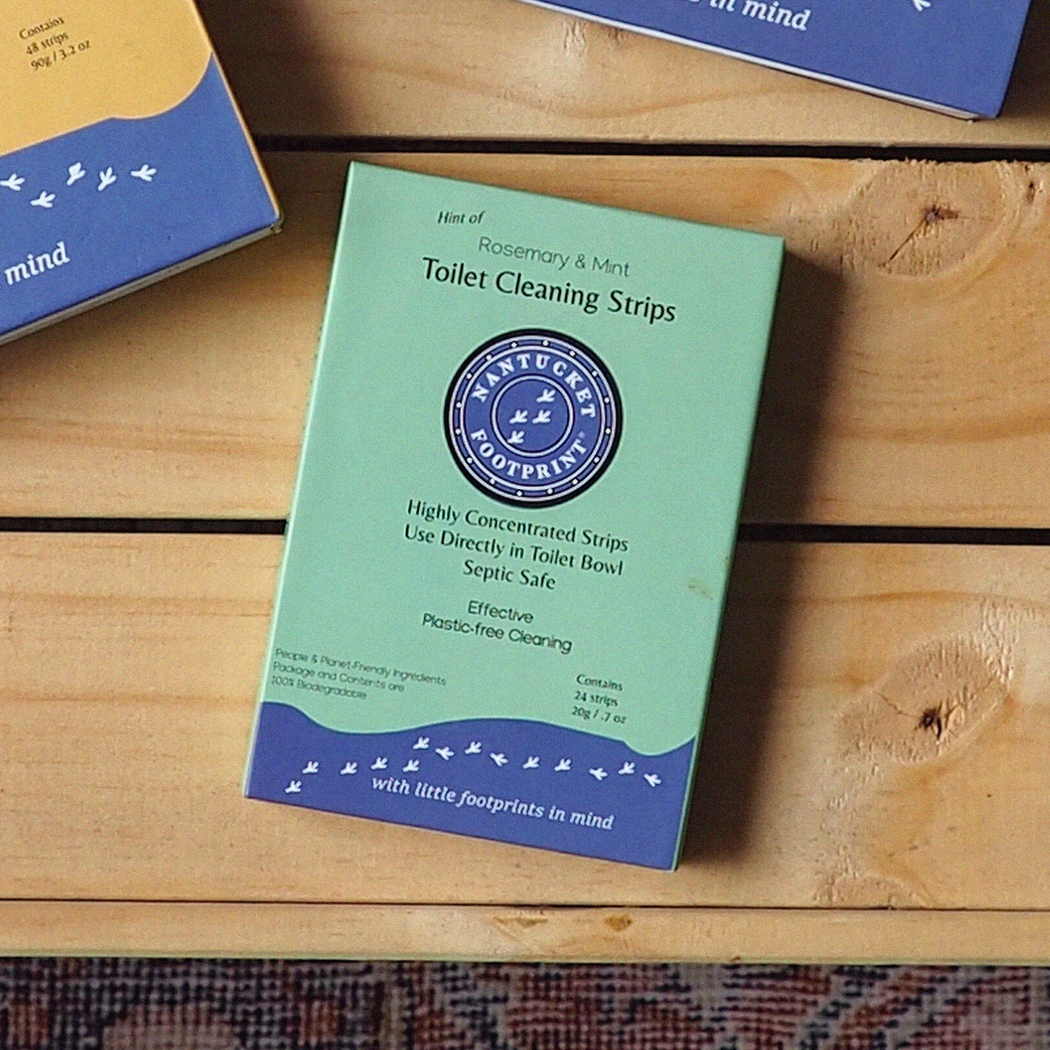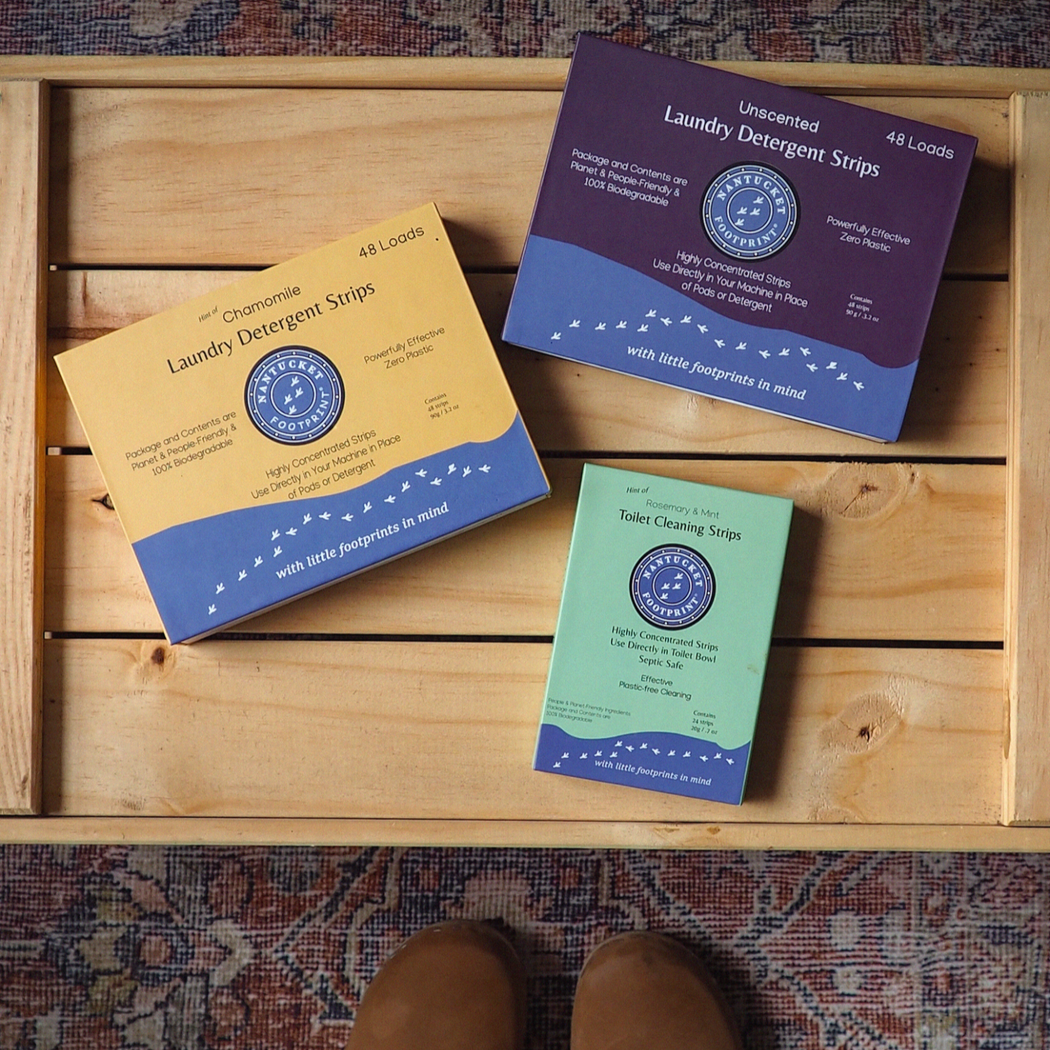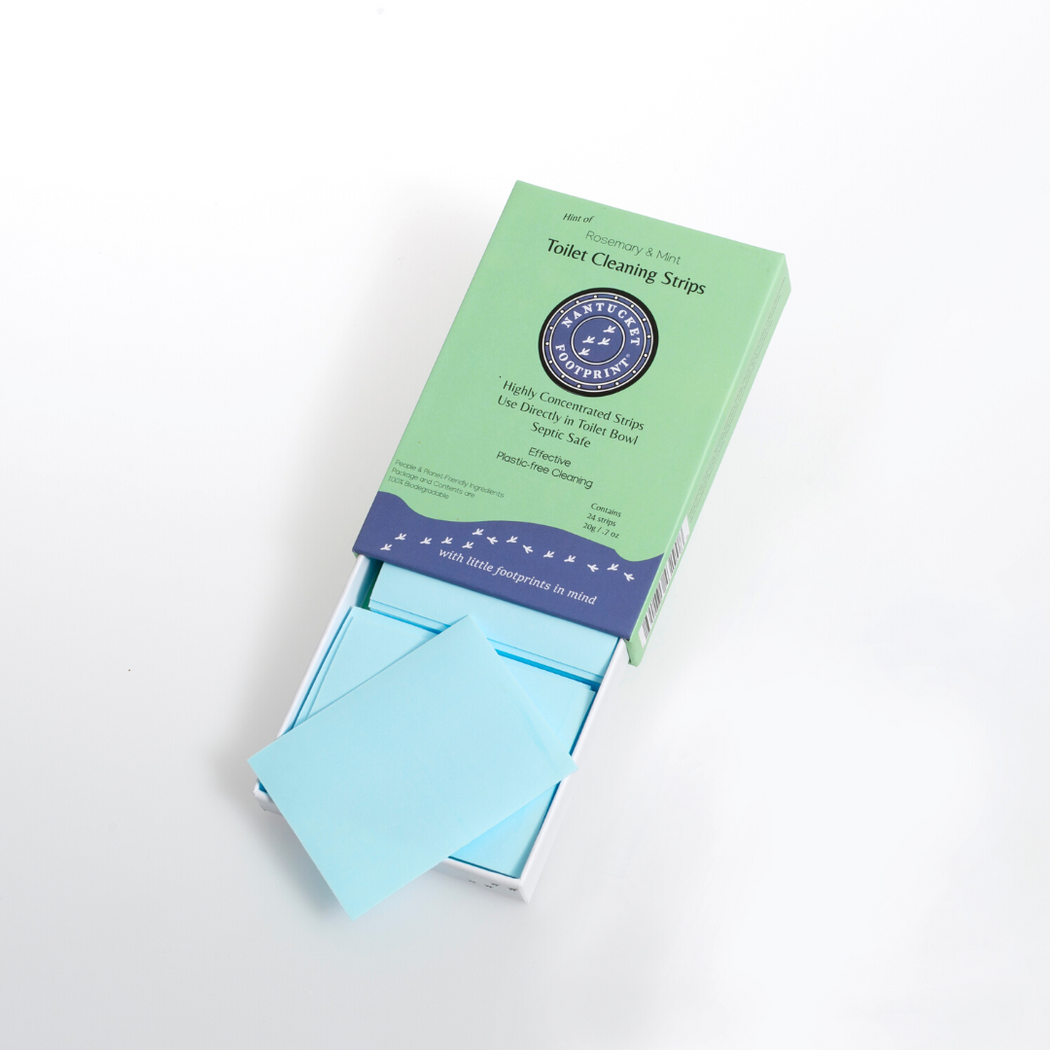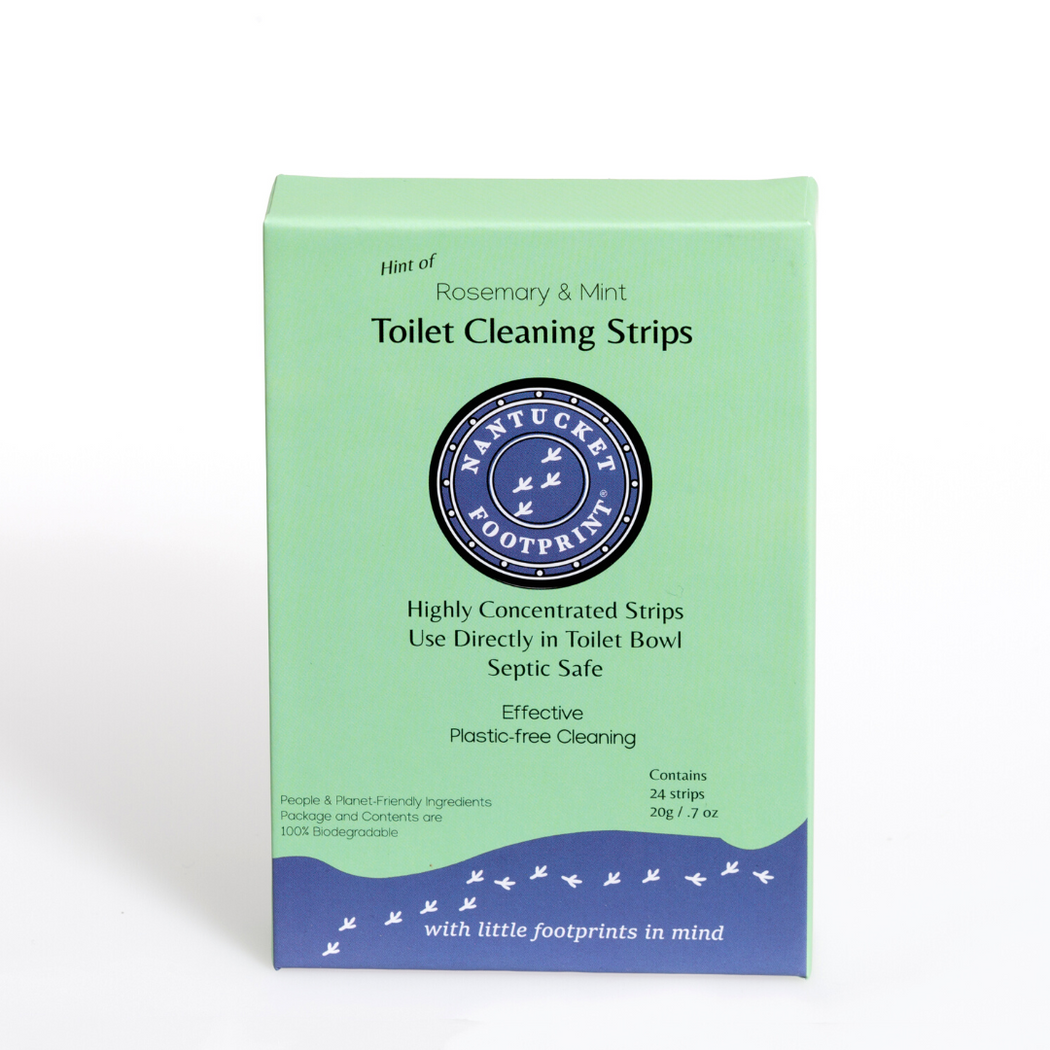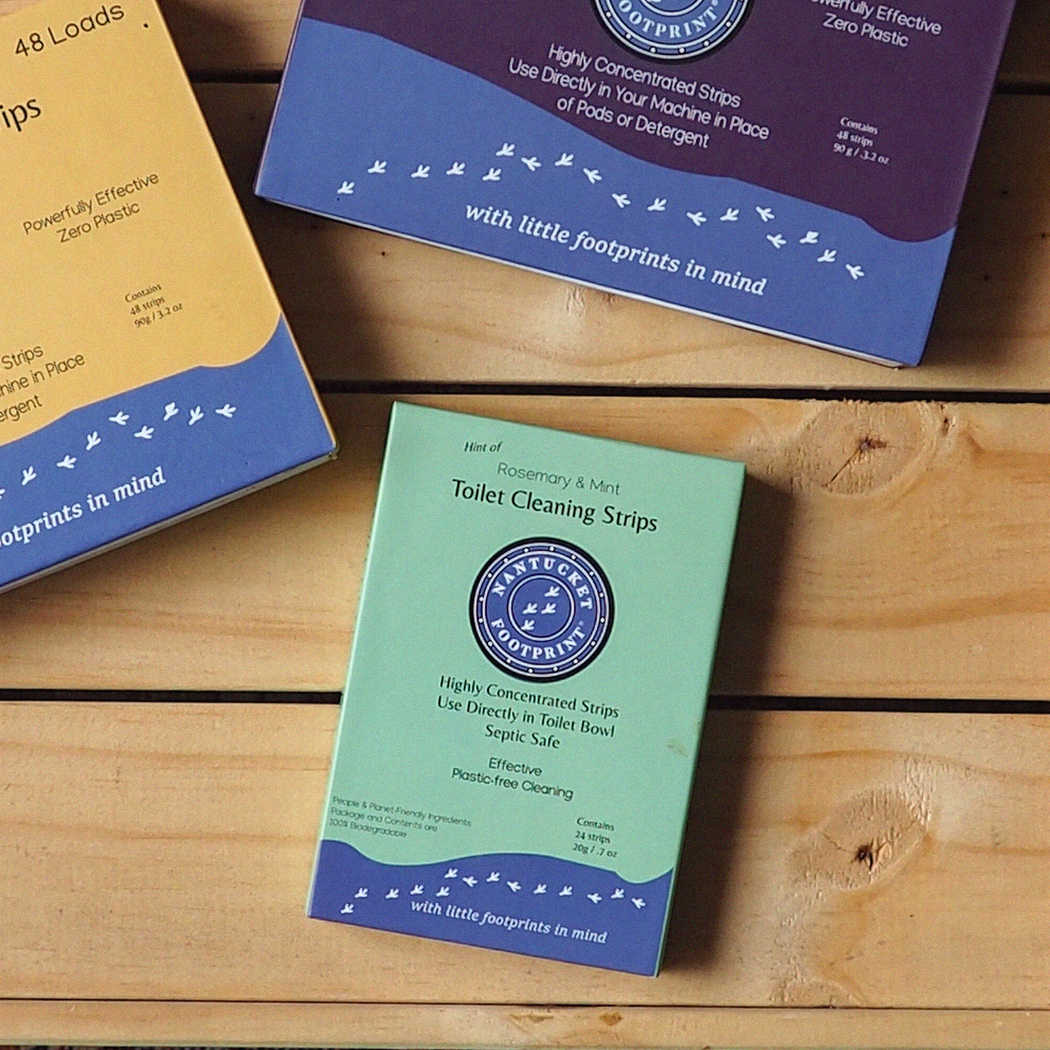 Effective toilet cleaner without harsh chemicals! 
Introducing Nantucket Footprint zero-waste toilet cleaning strips – the ultimate plastic-free solution for keeping your toilet bowl clean and fresh! These compact strips are a game-changer when it comes to toilet cleaning, as they are gentle on the planet and tough on stains.
Each box of contains 24 strips, just toss into your toilet bowl, scrub, and flush!
Unlike traditional toilet bowl cleaners that come in plastic bottles and contain harsh chemicals, artificial fragrances and harmful ingredients, our strips are made with  clean, non-toxic ingredients and minerals for powerful plant-based cleaning. We use a combination of natural essential oils like rosemary oil and peppermint oil to eliminate odors and leave a light and fresh scent in your bathroom.
Using our strips is incredibly easy – just drop one in your toilet bowl, wait until it dissolves, brush, and flush - leave a few minutes longer for tough stains, rust or limescale buildup.. The strips also come in child-safe compostable (and recyclable and biodegradable) packages so you can worry less about leaving them around (of course it is still good practice to keep them out of reach of babies and pets!). With Nantucket Footprint zero waste toilet cleaning strips, you'll never dread cleaning your toilet again.
Our strips have been tested and proven to perform alongside major brands on hard water, rust stains, and limescale. They are septic safe and cruelty-free. They are also effective at keeping your toilet bowl clean and fresh. And the best part? They save space and money. Each strip takes a fraction of the space of traditional bottle, store on a shelf like a little book, and cost just 50 cents each (package of 24 $12.99)
Switch to Nantucket Footprint zero waste toilet cleaning strips and do your part in protecting the planet while keeping your toilet bowl sparkling clean. Toxic chemicals from toilet cleaners are a problem for municipal sewage systems and septic systems: Nantucket Footprint toilet strips are not corrosive and will not destroy the organic and good bacteria balance needed for systems to function safely.
 No more need for DIY cleaning - our strips contain only the active ingredients to do a great job without anything extra - no harsh chemicals, no toxic preservatives, no chlorine bleach, no harmful ingredients including phosphates, sulfates, hydrochloric acids or ammonia, and no plastic packaging – our compact strips have got you covered while keeping little footprints in mind!
We are a proud Conservation Partner of Rainforest Trust! 2% of the proceeds of every item you purchase online will go to directly protecting rainforests and endangered species habitats around the world. Learn more on our Giving Back page.
How to Use
How to Make: For an effective natural clean, toss one strip into your toilet bowl, allow to dissolve, and clean your toilet with a brush as you would any other toilet cleaner. Our powerful yet gentle ingredients work to remove stains and grime, and leave your bathroom smelling fresh. Then, flush!
Storage: These products are meant to be stored at room temperature and at average humidity. In cold or dry conditions they may become brittle. If this happens - no worries. They will become pliable again once humidity returns to normal. For a quick fix just waft individual strips over boiling water for a few seconds before use.
What's In Our Cleaner
SAFE & EARTH FRIENDLY INGREDIENTS There are a lot of "green-washed" products out there. Nantucket Footprint is committed to not being among them. When we set out to make our cleaning formulas, we decided to follow a few basic principles:
FULL INGREDIENT TRANSPARENCY  Most household cleaners sold in the USA still don't disclose ingredients. But we know ingredients matter. We are committed to 100% ingredient transparency for all our products, and so you can find all our ingredients on the packaging - More details can be found 

here

.
COSMETIC QUALITY INGREDIENTS There are no strict standards for cleaning product ingredients in the USA so we decided that all of our ingredients needed to not only be on the 

Environmental Protection Agency's (EPA) Safer Choice

 list but also must have the lowest (safest) ratings on the 

Environmental Working Group's (EWG) Skin Deep Database

 (no ingredient should have a higher rating than a 2). In addition, none of our ingredients appear on the 

Suzuki Dirty Dozen List

 – Our thinking is that products used in your home should have ingredients that would be safe enough to use on your body (they of course aren't intended for bodies – this was just our standard).
FREE FROM HARMFUL CHEMICALS Every Nantucket Footprint cleaning product is free from harmful chemicals including those that are harmful to people or to the planet.

 

So you will find NO sodium lauryl sulfate, NO sodium laureth sulfate, NO phosphates, NO phthalates, NO parabens, NO artificial fragrances, NO triclosan, NO methylisothiazolinone and NO benzisothiazolinone. Also our products are made with NO vinegar, bleach, or palm oil.

 

And our products are non-abrasive.
NO ARTIFICIAL FRAGRANCES The only way to achieve highly fragrant laundry and cleaning products is to use artificial fragrance ingredients. Such ingredients are a significant source of household toxins, and we have opted not to use any in our formulations.

 

For a healthy clean with low toxicity, we lightly scent our All-Purpose Cleaning Strips using only a hint of cold-pressed essential oils from grapefruit and bergamot.

 

Our goal is light and fresh -- if you are looking for perfume, you will be disappointed in the fragrance level.
KICKING SINGLE-USE PLASTIC TO THE CURB Each box of Nantucket Footprint All-Purpose Cleaning Strips equals four plastic spray bottles that never had to be created or discarded! Our boxes are made from 

compostable

cardboard (even the child-resistant button). With over 120 million households in the USA there is a huge amount of plastic waste created from household cleaning products each year – Just imagine what an impact we can have together by eliminating single-use plastic cleaning bottles!
SUPER EFFECTIVE We guarantee that you will find our all-purpose cleaner to be the most effective natural cleaner you have ever used. We are so confident in this that If you are not 100% satisfied with natural all purpose cleaner and its effectiveness, we will send you a full refund.
ANTIBACTERIAL We thought long and hard about whether we should include ingredients in our

natural all purpose cleaner and other home products

 to make them antibacterial, but in the end we decided not to. The problem with the overuse of antibacterial cleaners has been well documented for over 20 years - basically using antibacterial cleaners is like overusing antibiotics. These cleaners exert evolutionary pressure on bacteria and viruses that eventually produce dangerous resistant strains. In addition, the ingredients that give antibacterial cleaners their strength are highly toxic themselves -- triclosan and triclocarban and the components of chlorine bleach are the most common. Read our article for more details: The Problem with Antibacterial Cleaners
TOTAL CONVENIENCE Our

natural all purpose cleaner is convenient and easy to use. C

oncentrated cleaning strips come in a lightweight and small package and quickly dissolve in our reusable glass spray bottle filled with water (or your own bottles) and take up no shelf space – ultimate zero-waste convenience and.
Read our article on our search for clean ingredients: It's Not Easy Being Green: The Search for (Truly) Eco-Friendly Cleaning Products
With Little Footprints in Mind
We chose the Footprint of an endangered owl in the middle of our logo to represent our commitment to our brand ethos. Our goal is to be guided by the mindfulness of little footprints in everything we do:
We are committed to making products that create the smallest possible ecological footprint and will always strive to improve this.
We are committed to making products that are safe – including that we put them in child-safe packages so that children are not harmed by eating concentrated cleaning ingredients (there are over 350

calls to poison control

in the USA per day from kids eating things like dishwasher and laundry pods)
We are committed to donating a portion of our profits to environmental organizations that protect

rainforests, endangered species, 

and work to combat climate change - we are mindful that the most humble creatures with the smallest footprints are impacted everyday by the choices we all make.
Reviews