Nantucket Footprint
Glass & Window Cleaning Cloths - 3 Cloths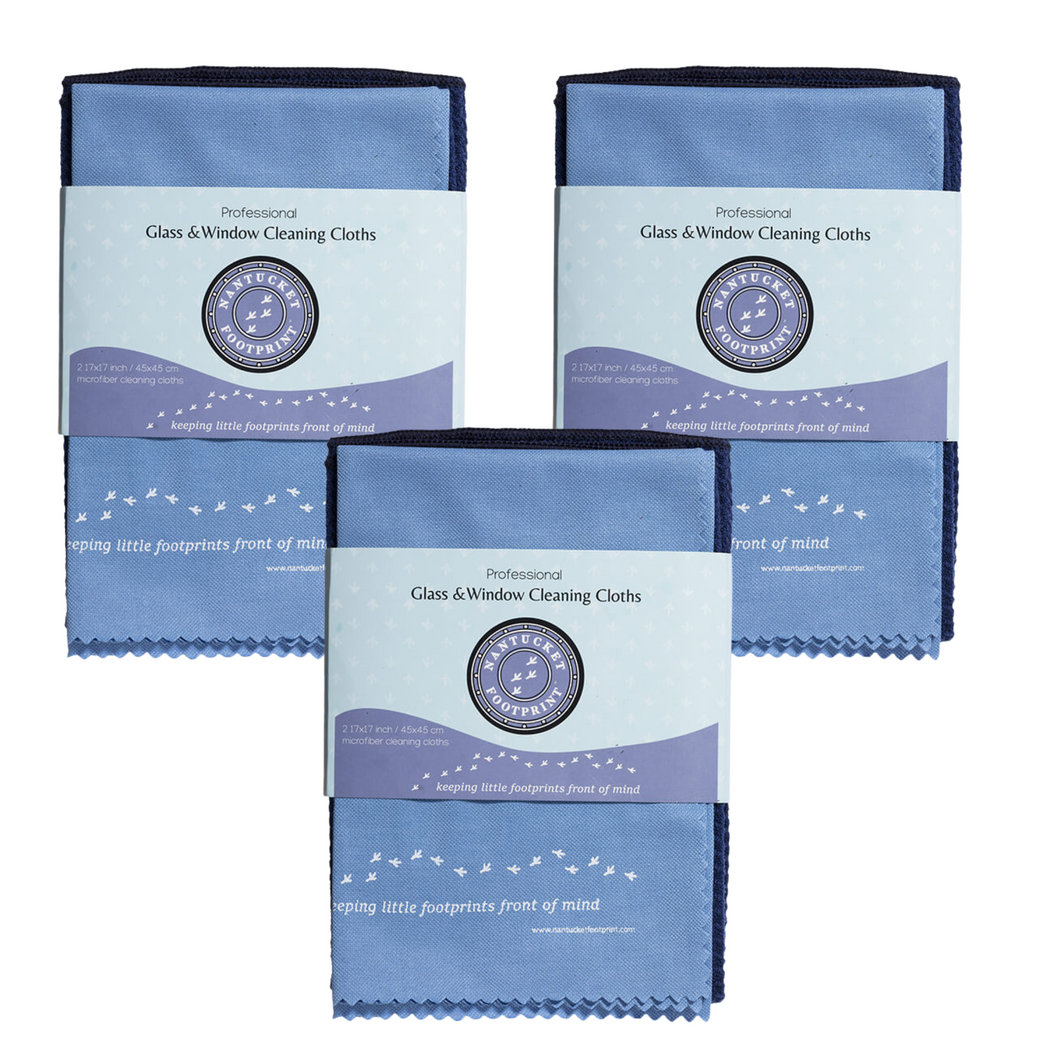 Effectively removes dust, dirt, or grease from glass surfaces.
Nantucket Footprint's professional quality glass and window cloths are made to last - guaranteed for three years with normal use or 300 washes.  Pair with our Glass & Window - Concentrated Dissolving Strips for professional-level, streak-free results. The two-cloth microfiber glass cleaning cloth set contains a generously sized chamois textured waffle cloth that effectively removes dust, dirt or grease from glass surfaces. The finer polishing cloth polishes surfaces to a remarkable streak-free shine. 
We are a proud Conservation Partner of Rainforest Trust! 2% of the proceeds of every item you purchase online will go to directly protecting rainforests and endangered species habitats around the world. Learn more on our Giving Back page.
EARTH-FRIENDLY One way of reducing waste is to buy high-quality and reusable products that last. Our professional glass and window cloth set is guaranteed to last for three years with normal use or 300 washes.
How to Perfectly Clean Glass Every Time: Spray glass & window cleaner liberally on a glass surface, then using our glass cleaning cloth wipe in circular motions across the surface to remove dirt and grime. For a polished streak-free finish, wipe in circular motions with a separate (finishing) cloth.  
How to Clean: After use rinse and hang dry. For a thorough clean, wash microfiber glass cleaning cloth with like-colors using our Laundry Detergent Sheets in your washing machine. 
100% satisfaction guaranteed
Contact us if you are not completely satisfied with this product and we will send you a full refund.
Note: colors may vary
Why Choose Our Microfiber Glass Cleaning Cloth
Clothes are always the best alternative for cleaning windows and glasses with glass cleaners. However, for precise cleaning with no marks or scratches, microfiber clothes turn out to be a superior choice. Here are a few reasons why our microfiber clothes are always a better choice than any normal cloth for cleaning windows or glasses.
Thorough Cleaning
Our microfiber cloths feature super fine fiber capable of trapping even the tiniest dust particles. With a microfiber cloth, thorough cleaning is possible. Compared to traditional clothes, this variety of glass cleaning clothes offers improved cleaning of all glass surfaces.
As a result, the surfaces shine for a longer time and the windows and crystals look as brilliant as new for a very long time. Additionally, the fiber is so small in these clothes that even bacteria and mold spores fail to escape the cleaning process.
Even though the clothes cannot remove all traces of bacteria and fungus like a disinfectant, they are indeed excellent for a wholesome cleaning.
The windows and glasses of homes and offices not only stay clean, but hygienic with our microfiber cloth's cleaning. Consequently, several premises remain germ-free and boast a healthy ambiance.
No Scratch Cleaning
Using our microfiber clothes can be beneficial for all as these clothes do not leave any scratches or dents behind. Due to the fineness of the fibers used for making these clothes, the microfiber clothes do not damage the rubbed surface in any way.
If the window or the glass surface has a stubborn stain, rubbing it with substantial force might be necessary. Rubbing roughly using a regular cloth might help the stain disappear but at the cost of some cleaning spots on the mirror the window glass.
Even with paper or any other cleaning alternative, vehement rubbing always increases the risk of glass surface dullness or scratches. With our microfiber clothes, such damages are not likely to take place.
With their exceptional capacity to trap moisture and tiny dust particles, these clothes are undeniably the best alternative for cleaning the windows and glasses of homes, offices or shops. Besides cleaning, microfiber cloth cleaners also ensure the maintenance of the surface luster.
Low-Cost Cleaning
By using our microfiber clothes for cleaning glasses and mirrors, the required quantity of liquid glass cleaners reduces. So, one bottle of glass cleaner lasts for a longer time and the effective cost per cleaning decreases.
Our glass cleaning cloth made of microfibers can save a lot of cleaner from getting wasted. Spray a little on the cloth and wipe the surface clean. The soft texture of these clothes makes the cleaning process hassle- free for the user's hands as well.
For all window and glass cleaning requirements, using our microfiber cloth remains the best choice at any time.
Reviews